Blood Orange and Fennel Salad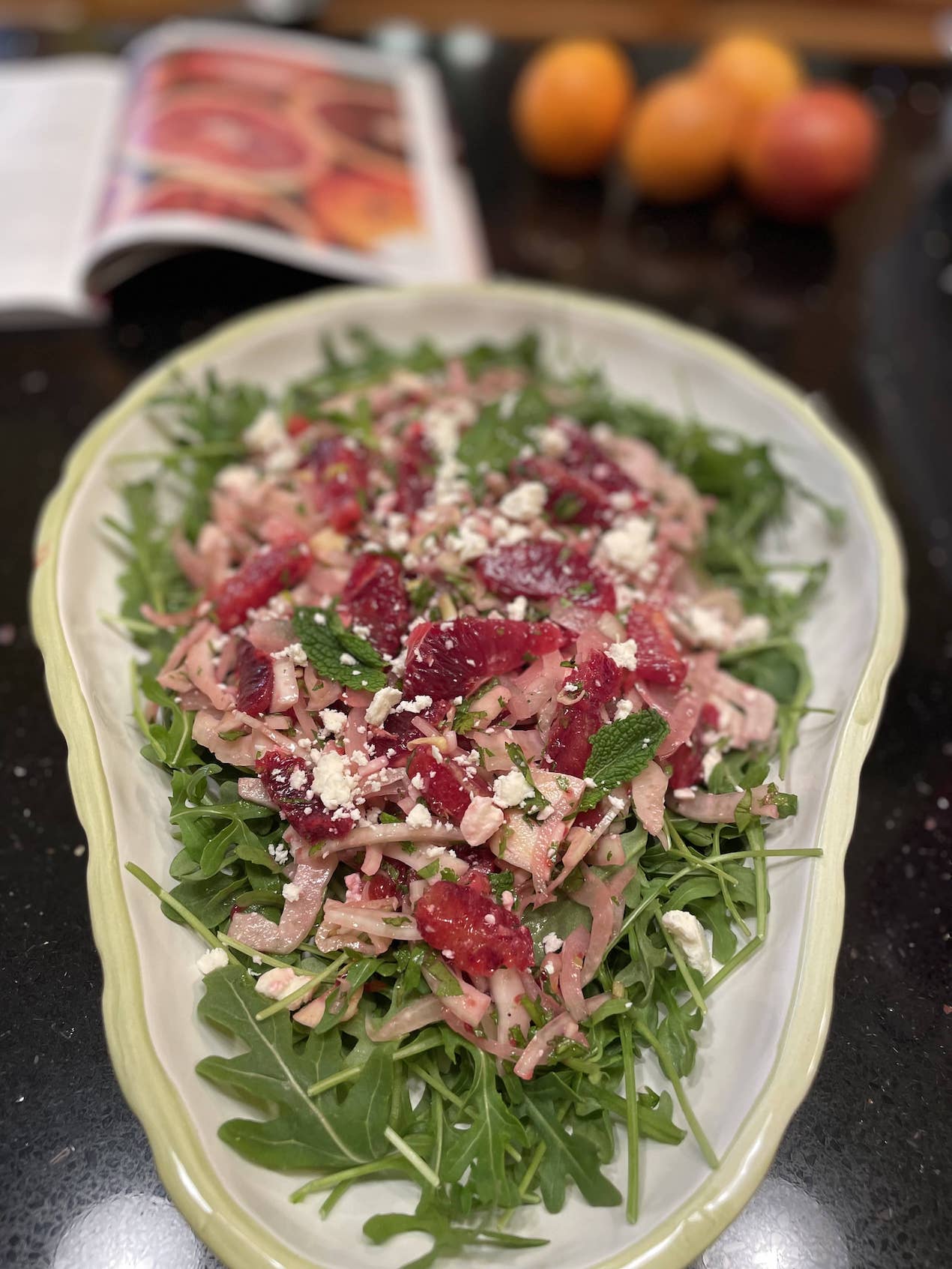 This vibrant salad is a real treat that brings a bit of brightness to gray winter days.
The garnet red and tart flesh of the blood oranges, the crunchiness and aroma of the fennel, the mint, and the slight pudginess of the arugula will leave the most refreshing taste in your mouth.
Fennel has a licorice-like aroma, but the fresh bulb is light, bright, and mild. The taste is slightly sweet with a hint of perfumy flavor, but its taste is delicate and not at all overpowering. '
In folklore, fennel is known as a carminative, meaning a food that helps prevent or relieve intestinal gas. The vegetable contains a high amount of a phytonutrient called anethole, a volatile oil that may work as an anti-spasmodic, inhibiting painful cramps that may occur during the digestive process.
Blood oranges are less acidic than regular oranges and are also unique in their nutritional value. Anthocyanin, the pigment that gives them their bright red color, has anti-inflammatory properties, which could help reduce the risk of heart disease and cancer.
Use them while you can during the winter months. They are a great addition to everything from salad to cocktails to baking goods!
Blood Orange and Fennel Salad
Description
This winter salad is full of nutrients that are anti-inflammatory and that help with the digestive process. The refreshing taste will brighten even the grayest of winter days.
Ingredients
4 small/medium Blood Oranges
1/2 medium Fennel Bulb
1/2 medium Red Onion
2 Tbsp Fresh Mint, chopped
2 Tbsp Fresh Basil, chopped
2-3 oz crumbled Goat Cheese or Feta Cheese
2-3 cups Baby Arugula
Roasted Chopped Pecans or Pistachio
4 Tbsp Olive Oil
2 Tbsp Blood Orange Juice
2 Tbsp Fresh Lemon Juice
1/2 tsp Pink Himalayan Salt
1 tsp Raw or Regular Honey
1/4 tsp Black Pepper, more if desired
To Serve
Instructions
Make the dressing: Whisk together olive oil, blood orange juice, fresh lemon juice, Himalayan salt, honey, and black pepper. Set aside.
Using a sharp knife, trim the ends of the orange and set the fruit flat side down on a cutting board. Slice away the pith and peel in a downward motion. Then slice peeled orange into segments.
In a medium bowl, combine orange segments, sliced fennel, onion, mint, and basil. Pour the dressing over the salad and gently mix to combine.
Spread baby arugula evenly on a serving platter. Arrange the salad on top. Top with goat or feta cheese and sprinkle with nuts.
Eat healthy and have fun cooking!
Nutrition
Keywords:
salad
,
winter
,
vegetarian
,
side dish
,
winter salad
,
...
Luba Serebrenik is an Integrative Nutrition Health Coach and an Integrative Energy Therapy (IET) practitioner. Her website can be found here.