Butternut-Oat Breakfast Muffins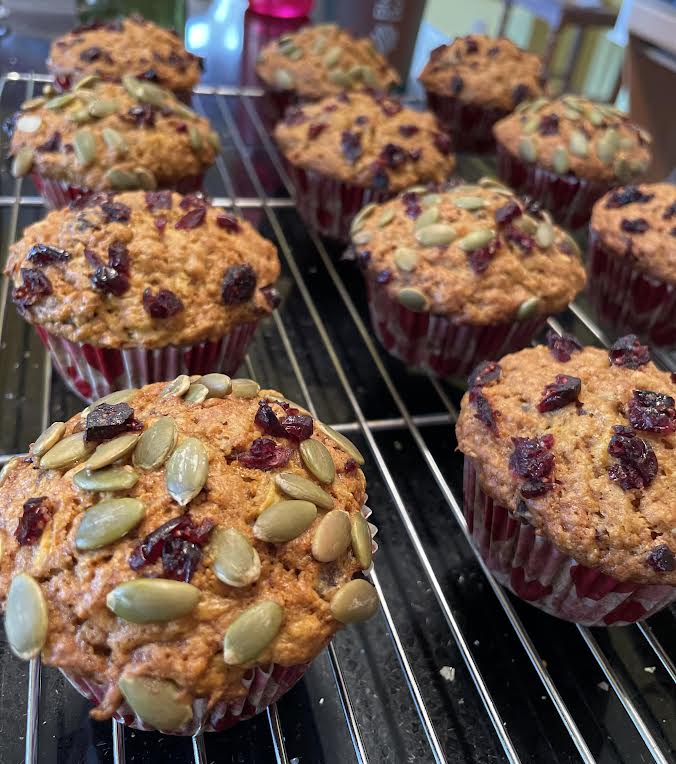 These muffins are packed with tons of healthy goodies and guilt-free to eat first thing in the morning!
They are a great source of fiber, promote good digestion, and have a significant amount of different vitamins and minerals.
The amount of sugar was reduced from the original recipe to ¼ of the cup. You can also omit the sugar completely or substitute it with Medjool dates. The butternut squash, apple, pineapple, and cranberries will give satisfy your sweet tooth without the extra sugar.
For this recipe, I used organic, freshly stone-ground all-purpose flour and organic oat flour. If you are avoiding gluten these days, you can experiment with just the oat flour or use the gluten-free mix to substitute the wheat flour.
The muffins are very moist and can be stored in an airtight container for 3-4 days on the counter. They are also perfect to freeze for later.
This recipe makes 12 muffins.
Butternut squash contains a type of fiber that's not digestible. If you have diabetes, it can help to keep your blood sugar from rising after eating. Butternut squash also has a low glycemic index, which means that its carbs are digested slower, which helps keep blood sugar from rising as well.
The pineapple, in addition to the dietary fiber, has bromelain. It's a type of enzyme that is promoted as a dietary supplement for reducing pain and swelling, especially in the nose and sinuses, gums, and other body parts.
Butternut-Oat Breakfast Muffins
Category: Breakfast, Snack
Description
These flavorful, healthy muffins are great to make ahead for a quick grab-and-go breakfast or to eat as a snack throughout the day.
Ingredients
1/2 C good vegetable oil
2 large eggs
1 tsp. pure vanilla extract
1/4 C kefir or plain yogurt
1.5 C Butternut Squash, peeled and grated on the large holes of your grater
1 large Granny Smith apple, peeled and grated on the large holes of your grater
1 (8 oz) can of crushed pineapple, liquid squeezed out
2/3 C dry cranberries, chopped
1/2 C walnuts, chopped (optional)
1 C unbleached all-purpose flour, organic preferably
1/2 C organic oat flour (if you don't have it, grind old fashioned oats in your coffee grinder)
1/4 C organic cane sugar or 3-4 Medjool dates, chopped
1 tsp ground cinnamon
1 tsp baking soda
1/2 tsp pink Himalayan salt
1/4 tsp ground ginger (optional)
1/8 tsp nutmeg (optional)
To Serve
Pumpkin seeds to sprinkle on top
Instructions
Position rack in the center of the oven, and preheat to 350F. Line a 12-cup muffin tin with paper liners.
In a medium bowl, whisk together the oil, eggs, kefir, and vanilla. Stir in the butternut squash, apple, pineapple, walnuts, and ½ cup chopped cranberries.
In a large bowl, whisk together the flours, sugar, cinnamon, baking soda, salt, ginger, and nutmeg.
Pour the wet ingredients into dry ingredients and fold with a spatula just until combined.
Using a big spoon or a cookie scoop, divide the batter between 12 muffin cups.
Sprinkle with rest of the cranberries and pumpkin seeds.
Bake until muffins are golden brown , about 25-30 min.
Let cool in muffin tin for 5 min and transfer them to a wire rack, and cool completely.
Nutrition
Keywords:
Breakfast
,
Muffins
,
Butternut squash
,
Oats
,
Easy breakfast
,
Snack
,
Express breakfast
,
Make-ahead
...
Luba Serebrenik is an Integrative Nutrition Health Coach and an Integrative Energy Therapy (IET) practitioner. Her website can be found here.