Cauliflower "Nachos" with Shrimp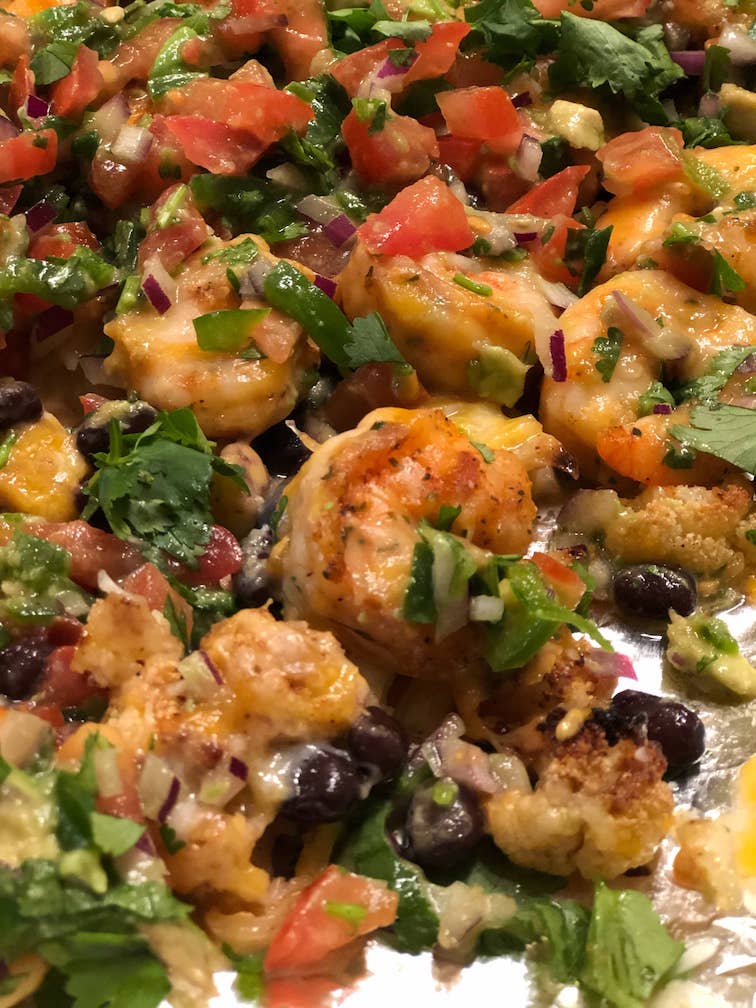 Looking for something to indulge yourself in this Super Bowl Sunday that also happens to be healthy?
Try out these Cauliflower "Nachos" with Shrimp! Loaded with delicious toppings and as much cheese as your heart desires, they'll fill you up this Sunday without the extra processed carbs. (Okay, I know we're a health blog, but sometimes a thick layer of melted cheese is just good for your soul, right?)
There's also an option to make it vegetarian if that's your jam. If you don't eat shrimp, the rest of the toppings will still give the dish layers of favor and enough variety to leave you satiated.
If you're not into football, these make a great party dish: A fun appetizer your friends and family will definitely remember.
...
Cauliflower "Nachos" with Shrimp
Description
This healthy dish is very flavorful, light, and filling at the same time. It's perfect for the upcoming Super Bowl party or for any time when you want to eat a healthy meal that still tastes indulgent. Enjoy!!!
Ingredients
3 Tbsp Olive Oil
1/2 tsp Chili Powder
1 tsp Ground Corriander
1 tsp Garlic Powder
1 tsp Onion Powder
1.5 tsp Pink Himalayan Salt, divided
8-10 C Large Cauliflower Florets, cut into 1/2 inch pieces
3 Roma Tomatoes, chopped
1 Large Avocado, diced
1/2 Red Onion, chopped
1 C Fresh Cilantro, chopped + more for garnish
2 Jalapeño Peppers, chopped
2 Tbsp Fresh Lime Juice
1 can Organic Black Beans
1.5 - 2 lbs Cooked Shrimp
1 C Shredded Mexican Cheese Blend (more if you love it extra cheesy)
To Serve
Garnish with Cilantro if desired
Instructions
Preheat oven to 425 F, coat a large rimmed cooking pan with oil.
Whisk first 6 ingredients together in a large bowl with 1 tsp salt. Add cauliflower and gently toss to coat.
Spread cauliflower in a single layer on the prepared pan. Bake until tender and starts to brown, about 20 min.
Meanwhile, combine tomatoes, avocado, cilantro, jalapeño, onion, lime juice and remaining ½ tsp. salt in a small bowl.
Top cauliflower with beans, shrimp and cheese. Bake for another 5-7 min or until cheese is melted.
Put tomato mixture over the "nachos", garnish with fresh cilantro and serve.
Nutrition
Keywords:
party food
,
superbowl food
,
appetizer
,
healthy appetizer
,
nachos
,
vegetables
,
comfort food
...
Luba Serebrenik is an Integrative Nutrition Health Coach and an Integrative Energy Therapy (IET) practitioner. Her website can be found here.