Coconola: Gluten-Free Coconut Granola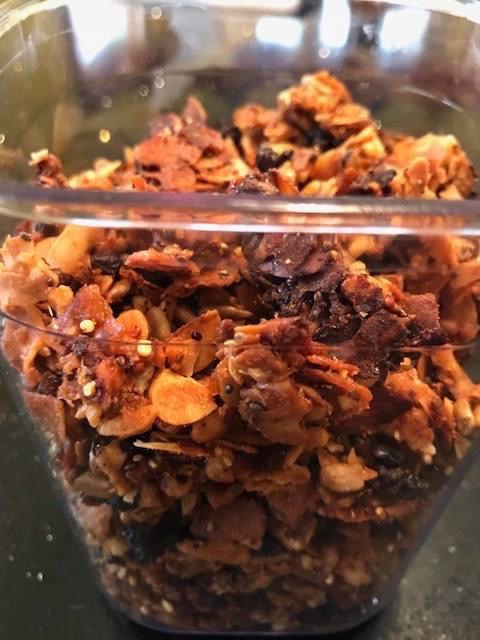 This all-natural coconut granola is loaded with protein, plant-based omega-3 fatty acids, fiber, antioxidants, and tons of micronutrients.
Coconut and coconut oil were chosen for this recipe not only to add a delicious taste but also because they help the body absorb fat-soluble vitamins (A, E, D, and K), calcium, and magnesium. They also make digestion of Omega-3 fatty acids twice as effective.
Coconola makes a great dessert or breakfast when mixed with any type of yogurt and topped with fresh fruit. It's also great on its own as a healthy snack in the middle of the day.
This recipe makes a good amount of Coconola. You can store it in an airtight container for up to 2-3 weeks.
You can also share it with your friends and family. Load up a mason jar with Coconola, tie a ribbon around it, and gift someone with this healthy snack that everybody will love. Enjoy!
Coconola
Description
Loaded with protein, plant-based omega-3 fatty acids, fiber, antioxidants, and tons of other micronutrients, this gluten-free homemade granola can be a snack, breakfast, or healthy dessert.
Ingredients
3 C Unsweetened Coconut Flakes (bulk Organic Raw Shredded Coconut works the best)
1 C Whole Almonds, chopped
1.5 C Walnuts, chopped
1.5 C Pumpkin Seeds
2 Tbsp Quinoa (uncooked)
2 Tbsp Chia Seeds
3 Tbsp Ground Flax
3 Tbsp Sesame Seeds
3 Tbsp Organic Coconut Oil
1/4 C Maple Syrup
1/4 C Raw Honey
1/4 tsp Salt
1 tsp Pure Vanilla Extract
1 C Dry Black Currant
1 C Dry Cranberries
To Serve
Serve with yogurt and fresh berries, if desired
Instructions
Adjust oven rack to upper-middle position and heat oven to 350 degrees F.
Line a rimmed baking sheet with parchment paper.
Chop almonds and walnuts by hand. This will provide superior texture and crunch.
In the large bowl combine coconut flakes, almonds, pumpkin seeds, quinoa, chia seeds, ground flax seeds, and sesame seeds.
In the small saucepan whisk together coconut oil, maple syrup, honey, salt, and pure vanilla extract. Heat on medium-high until just melted, stirring constantly. Add liquid to dry ingredients and fold until thoroughly coated.
Transfer the coconola mixture to your prepared baking sheet and spread into a thin, even layer. Using a stiff metal spatula, press mixture until very compact.
Bake for 20-25 min or until lightly browned, rotating pan once halfway through baking.
Remove coconola from the oven and cool to room temperature, about 1 hour.
Break cooled coconola to desired size pieces and stir in dried black currants and cranberries. You can also sub any dried fruit of your choice.
Nutrition
Keywords:
homemade granola
,
granola
,
healthy snacks
,
coconut
,
breakfast
,
snacks
,
gluten-free
,
desserts
,
gluten-free dessert
,
healthy dessert
...
Luba Serebrenik is an Integrative Nutrition Health Coach and an Integrative Energy Therapy (IET) practitioner. Her website can be found here.