Healthy, Easy Homemade Granola Bars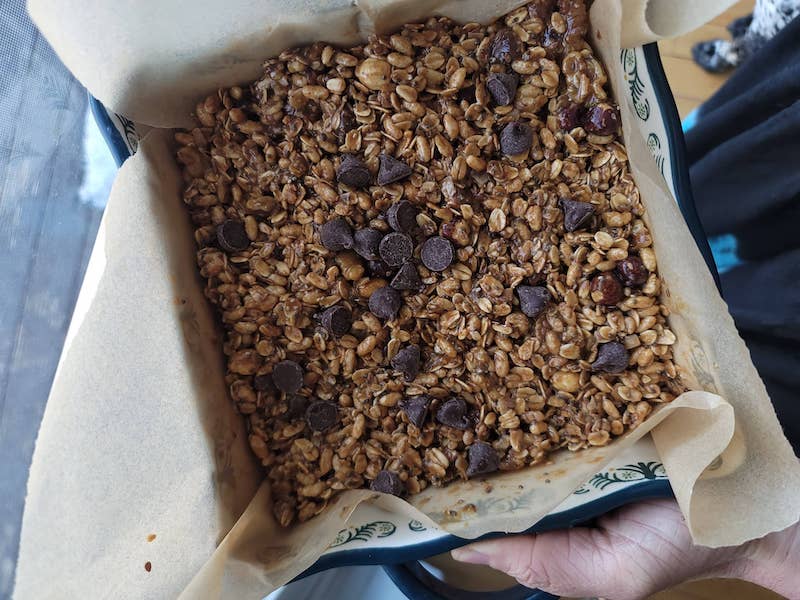 My husband loves granola bars. He's like a 29-year old with the appetite of a growing teenager and needs a lot of snacks between meals to sustain his high energy levels.
(He's also a massage therapist, like I am, so I understand the need for calories).
But buying granola bars every week can get pricey, especially if you opt for good quality ones without added preservatives and toxic hydrogenated oils. Not to mention the waste! Oh, so many wrappers...
Fortunately, homemade granola bars are the easiest recipe. They are filling, nutrient-dense, and much healthier than most of what you can find in the store for a fraction of the price.
This recipe includes a base that I use for all my granola bar recipes. The add-ins can be mixed up each time you make it, depending on what you have in your pantry and what your body needs that week.
On this blog, we're not usually big on long novel-like stories on our recipes... We like to keep it simple and to the point, so you can get cooking...
I'm going to go into this one a bit more, though, since it is more versatile and you'll have to play with it a bit to find what works for you.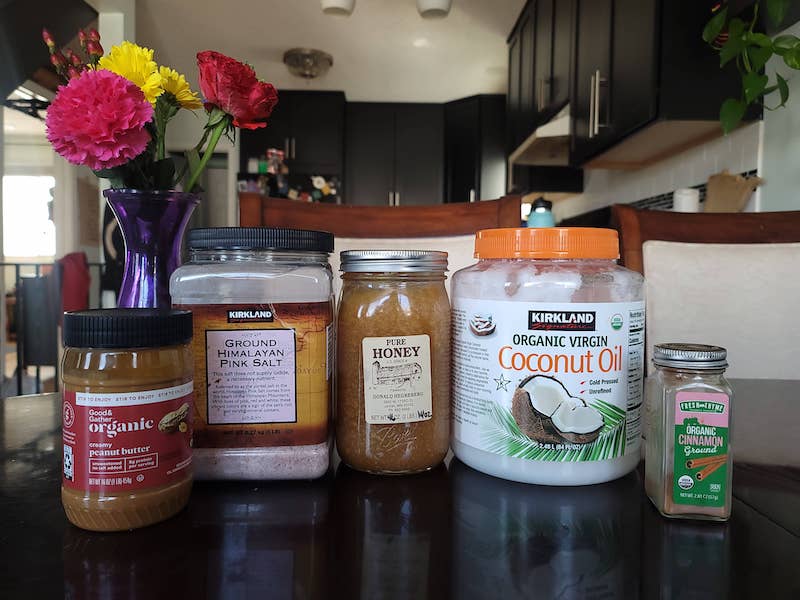 Honestly, I just eyeball these for measurements. I measured it the first few times to get the consistency right (if you don't have enough base, it can get crumbly) but as I got used to it, measuring felt like a waste of time.
Coconut oil. About 1/3 cup. Full of good fatty acids that your body needs for things like improved cognitive function, metabolism, and hair and skin health.
Peanut butter. About 2/3 cup. You can also sub almond butter or seed butter for a nut-free option.
Honey, date paste, brown rice syrup, maple syrup. I use about 1/2 cup honey, or a little less with a drizzle of maple syrup.
A pinch of pink Himalayan salt. You could also use sea salt. I just have Himalayan salt so that's what I use on everything.
A dash of cinnamon. Delicious, and loaded with antioxidants and polyphenols (3, 4, and 5).
Put the above ingredients in a small saucepan and heat on low on the stove, stirring constantly until smooth.
Now for the rest of the base.
Organic, Sprouted Rolled Oats. Any oats will do, but these are my favorite. You can do 2 cups of these with 1-1.5 cups of the next ingredient, or for a denser bar, use 3-3.5 cups of just oats.
Organic Rice Crisps. 1-1.5 cups. They add a nice, lighter crunch. You can omit these and just use oats, too.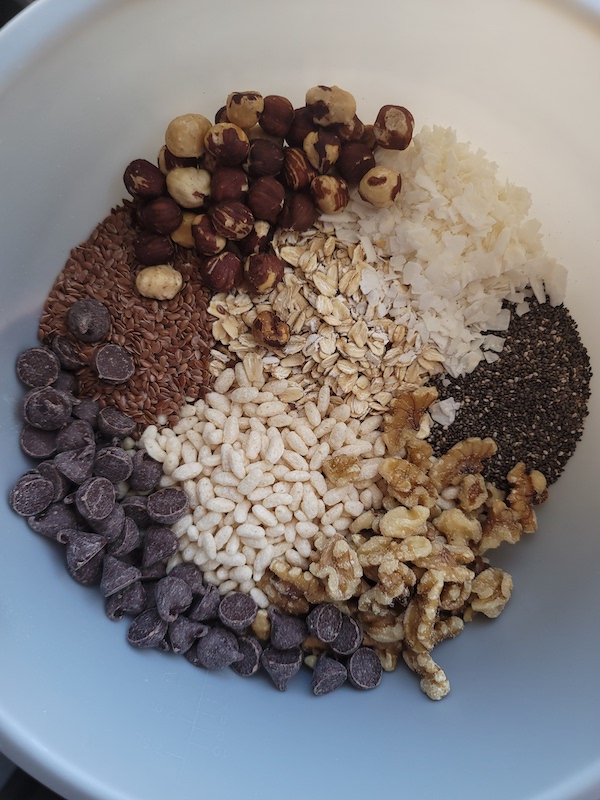 This is the part where you can get creative. I just wing it every time, honestly.
Nuts. Walnuts, hazelnuts, almonds, pecans. The sky is your limit.
Seeds. I always add superfood seeds like chia seeds and flax seeds. You can also do hemp hearts, sunflower seeds, pumpkin seeds, etc.
Dried fruit. Dried cranberries or blueberries are great in these recipes. Also, shredded coconut is delicious.
Chocolate. My husband says they're worthless without this ingredient, but I'll let you decide. Mix in Ghirardelli chocolate chips, throw some on top, or mix in a tablespoon of Cacao powder
What else sounds good to you? Let me know in the comments below!
Mix together in a bowl, press into a 9x9 pan, and let it set in the fridge. Ta-da, you've got granola bars!
...
Homemade Granola Bars
Description
Easy, homemade granola bars with healthy ingredients and no wrapper waste! A versatile recipe: Just follow the base and mix up the nuts, seeds, and other add-ins to make it your own.
Ingredients
2/3 Cup Peanut Butter, Almond Butter, or other seed butter of your choice
1/2 Cup Honey
1/3 Cup Coconut Oil
1 tsp Cinnamon
Dash of pink Himalayan salt
2 Cups Organic Sprouted Rolled Oats
1 cup Rice Crisps (or sub another cup rolled oats)
To Serve
Add Nuts: Walnuts, hazelnuts, almonds, pecans.
Add Seeds: Chia seeds, flax seeds, hemp hearts, pumpkin seeds
Shredded coconut
Chocolate chips
Dried fruit: Cranberries, dried blueberries, your choice!
Instructions
Mix coconut oil, peanut butter, honey, cinnamon, and salt in a small sauce pan and heat on low, stirring constantly, until smooth
Mix rolled oats and rice crisps into a bowl. Add your desired add-ins: Nuts, seeds, dried fruit, etc.
Mix together wet ingredients and dried ingredients and stir gently until well blended.
Pour mixture into a 9x9 pan and put in fridge until set.
Cut into bars and enjoy!
Nutrition
Keywords:
Snacks
,
Granola bars
,
Granola
,
Healthy
,
Healthy fat
,
Coconut oil