Israeli Couscous & Arugula Salad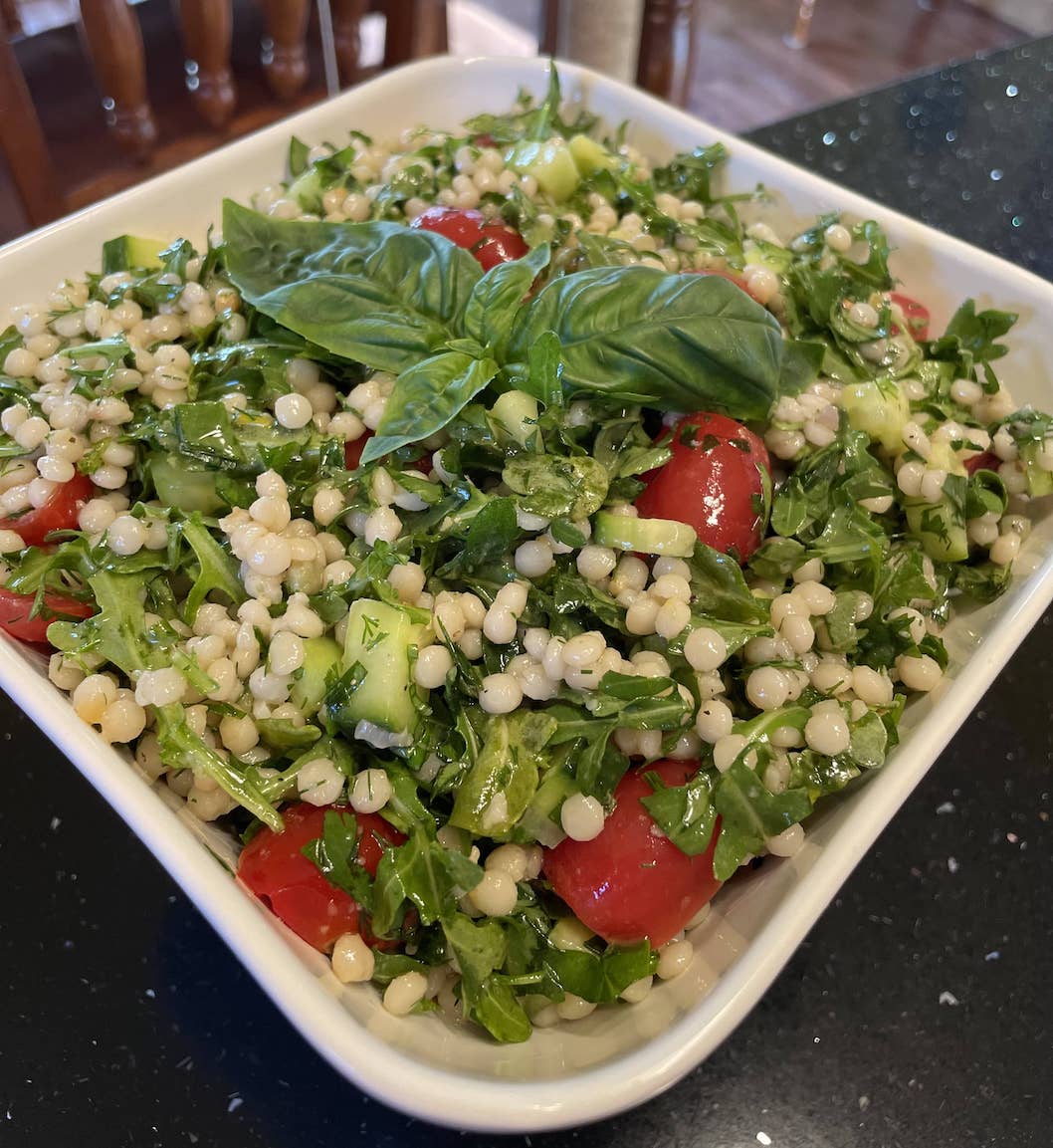 Israeli Couscous is also known as Pearl Couscous or Gourmet Pearl Couscous. It consists of small balls of toasted semolina flour and is meant to be enjoyed like pasta or rice. An easy weeknight dinner, couscous is ready to eat in only 10 minutes!
The texture and taste are a lot like pasta but with a pearly, slightly slippery surface.
This festive and nutrient-loaded salad is satisfying enough to enjoy as a meal. The combination of fresh vegetables and herbs makes it taste and smell like a spring. It's perfect for Easter brunch, lunch, or dinner.
The dressed salad keeps quite well in the fridge for about 2 days, but it's best to serve fresh.
If you want to make it in advance, keep arugula and dressing separate until just before serving. If you are not a big fan of arugula, you can replace it with spinach.
Israeli Couscous & Arugula Salad
Description
A warm vegetable salad with couscous and dressing. Serve fresh or store up to 2 days in the fridge for leftovers. Keep dressing and arugula separate until ready to serve.
Ingredients
1/3 cup + 2 tbsp. extra virgin olive oil extra virgin olive oil
2 garlic cloves
2 small shallots, finely chopped
1.5 cups Israeli couscous
2.5 cups organic low sodium vegetable broth or water
3/4 tsp pink Himalayan salt, divided
1.5 cups cherry tomatoes, halved
1 organic English cucumber, diced
3 cups baby arugula, roughly chopped
1/4 cup cilantro, chopped
1/4 cup fresh dill, finely chopped
2 tbsp fresh basil, chopped
zest of 1 lemon
3 tbsp fresh lemon juice
1 tsp Dijon mustard
1 tsp dry cilantro or parsley
1 tsp sugar
1/4 tsp black pepper
To Serve
Instructions
In a medium size pot, heat the oil. Add shallots and sauté until it's translucent and starts to brown.
Add garlic and cook until fragrance has been released.
Add dry couscous and stir, cooking for 1 min.
Add broth, place the lid on, bring it to a boil, and turn the heat down to low.
Cook for 10 min with the lid slightly open until liquid is absorbed and the couscous is cooked through but still firm.
Take it off the heat, cover with the lid and let is sit for another 5-8 min.
Transfer cooked couscous into a large heatproof bowl and use a fork or spoon to separate the couscous. Don't worry if it gets sticky, it will separate when tossed with vegetables and dressing.
In a jar or dressing bottle, add lemon zest, lemon juice, 1/3 cup olive oil, 1 garlic clove (minced), dijon mustard, dried cilantro or parsley, sugar, 1/2 tsp Himalayan salt, and black pepper. Shake well.
Add cherry tomatoes, cucumber, arugula, cilantro, dill, and parsley to the couscous. Pour over dressing and toss.
Serve immediately or store in fridge until ready to serve.
Nutrition
Keywords:
couscous
,
salad
,
warm salad
,
bowl
,
vegetables
,
Pearl Couscous
,
Spring salad
,
easy dinner
,
healthy dinner
,
weeknight dinner
...
Luba Serebrenik is an Integrative Nutrition Health Coach and an Integrative Energy Therapy (IET) practitioner. Her website can be found here.