Lemon-Tahini Quinoa & Vegetables Bowl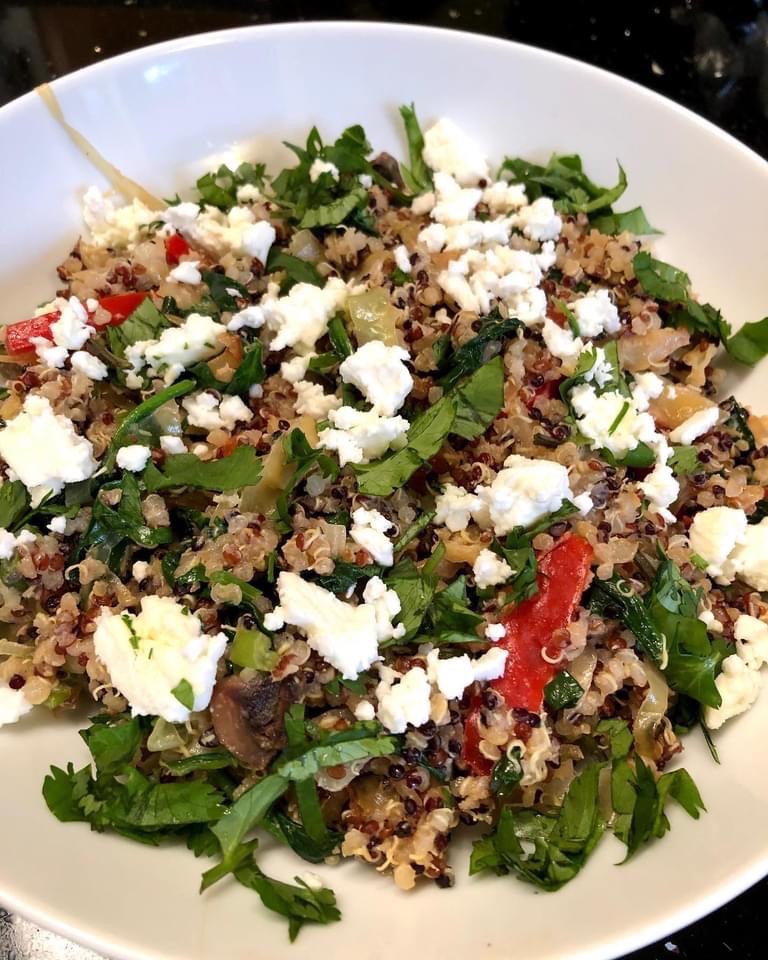 This vegetarian dish is a bouquet of flavors, rich in complete protein, high in fiber, antioxidants, and great for meatless days.
Quinoa is a superfood that is becoming more popular in recent years, although it has been around for over 7,000 years already. Originally from South America and known as an ancient grain, this food is actually not a grain, but a seed.
Quinoa has a myriad of health benefits and has become one of the world's most popular health foods.
Shiitake mushrooms contain unique active sugars called polysaccharides that have been shown to increase the production of white blood cells in our body and boost your immune system.
Last but not least, this dish is enhanced with powerful digestive herbs, like coriander, cumin, and mustard seeds. These herbs are very effective in boosting digestion: They stimulate the enzymes that facilitate better secretion of digestive juices, as well as decrease bloating and constipation.
This dish is very versatile, filling, and high in everything your body needs.
Lemon-Tahini Quinoa & Vegetables Bowl
Description
This versatile dish is rich in plant-based protein, fiber, and contains powerful digestive herbs that help decrease bloating and constipation. Keep it vegetarian or add a protein of your choice! It can also be cooked ahead of time to eat as lunch all week.
Ingredients
1 C Multi Colored Quinoa
1/4 C Tahini (Sesame Seeds Paste)
1/4 C Warm Water
Zest of 1 Lemon
2-3 Tbsp Fresh Lemon Juice
1/2 tsp Salt
1/4 tsp Ground Pepper
1 tsp Ground Corriander
1 tsp Black Mustard Seeds (ground or whole) - optional
1 tsp Black Cumin Seeds or Ground Cumin
1/4 tsp Crushed Red Pepper
3 Tbsp Extra-Virgin Olive Oil
2 Cloves Garlic, minced
4 oz. Fresh Shiitake Mushrooms, sliced
1 Medium Red Bell Pepper, chopped
4 C White Cabbage, shredded thinly
4 C Baby Spinach
To Serve
Top with toasted sliced almonds, crumbled feta cheese, and fresh cilantro or parsley for garnish
Instructions
Boil 2 cups of water in a medium saucepan. Add ¼ tsp. of salt to the water, add quinoa and cook on medium-low for 15 minutes. Cover and remove from the heat and let it sit for another 10-15 minutes. Transfer to a heat proof bowl, fluff with a fork and set aside.
Whisk together tahini, water, lemon juice, lemon zest, salt, pepper, coriander, mustard seeds, cumin seeds, crushed pepper, and 1 tbsp olive oil in a small bowl until well blended. Set aside.
Heat remaining 2 tbsp. olive oil in non-stick skillet or wok. Add sliced mushrooms and cook until they start to brown. Add garlic and cook until it begins to get fragrant.
Add bell pepper and cabbage. Cook for another 4-5 min, stirring occasionally.
Stir in spinach, quinoa, and tahini mixture. Continue cooking until spinach is wilted and heated through, another 2-3 minutes.
Serve hot or warm in shallow bowls. Garnish with feta cheese, almonds, and fresh chopped cilantro or parsley..
Feel free to add protein if you'd like, such as chicken or wild-caught salmon.
Nutrition
Keywords:
vegetarian
,
vegetables
,
quinoa
,
fiber
,
healthy bowls
,
Mediterranean
...
Luba Serebrenik is an Integrative Nutrition Health Coach and an Integrative Energy Therapy (IET) practitioner. Her website can be found here.