Potato and Chickpea Curry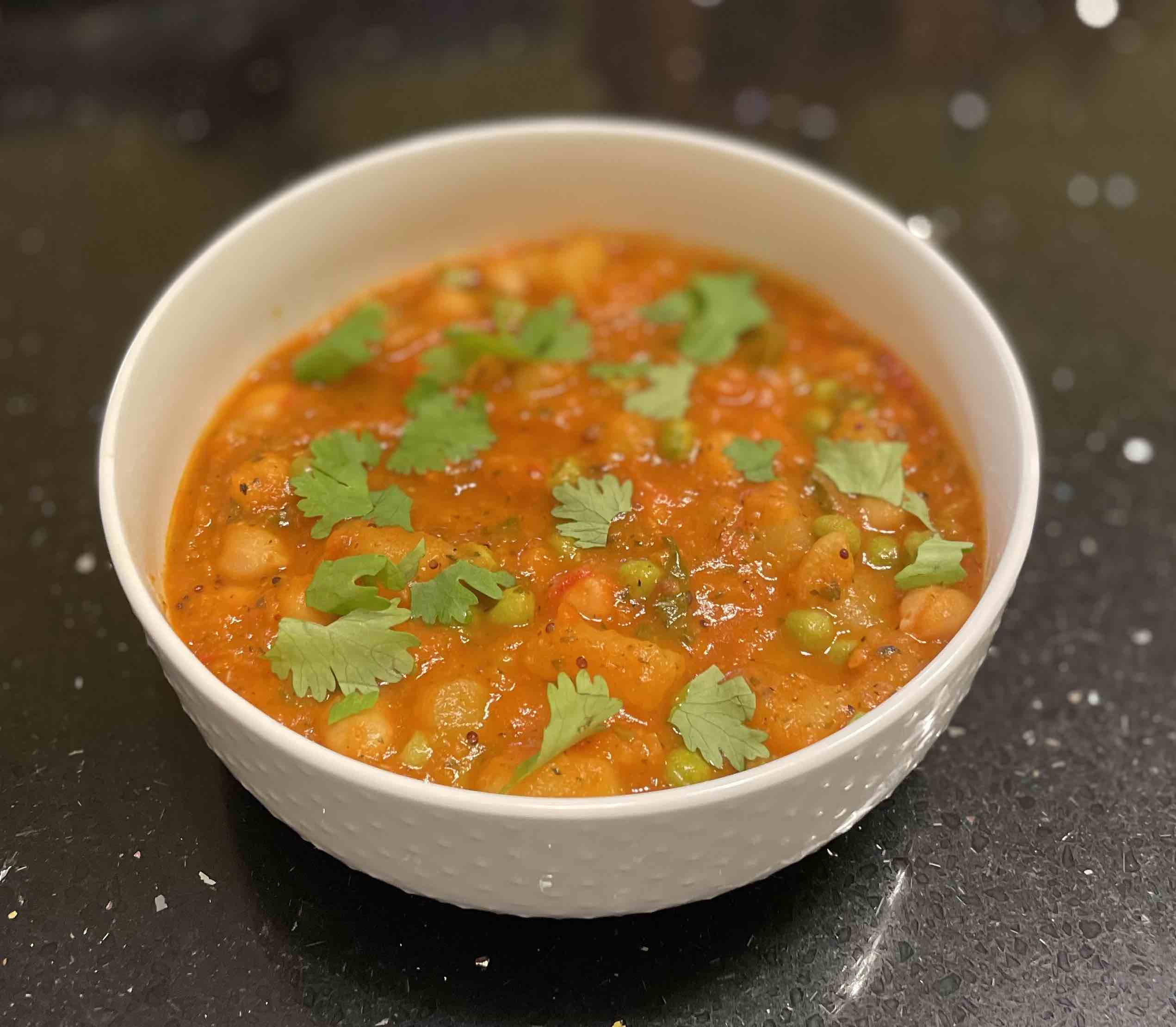 This fast and easy curry dish comes together with ingredients you most likely have on hand, like frozen peas, canned chickpeas, and tomatoes. It's warming, comforting, delicious, and perfect for cold winter days.
While "curries" are often used in international Indian cuisine, the term generally means "sauce" and is used to describe a wide variety of dishes served in different kinds of sauces.
Most of the time, these dishes do not contain curry powder. However, I used curry powder in this recipe to give this dish a deeper, earthier flavor with a rich golden hue, courtesy of turmeric.
Curry powder is a standard dried spice mixture made with a base of turmeric, red pepper, cumin, and coriander, often also incorporating paprika, fennel seed, mustard, and more.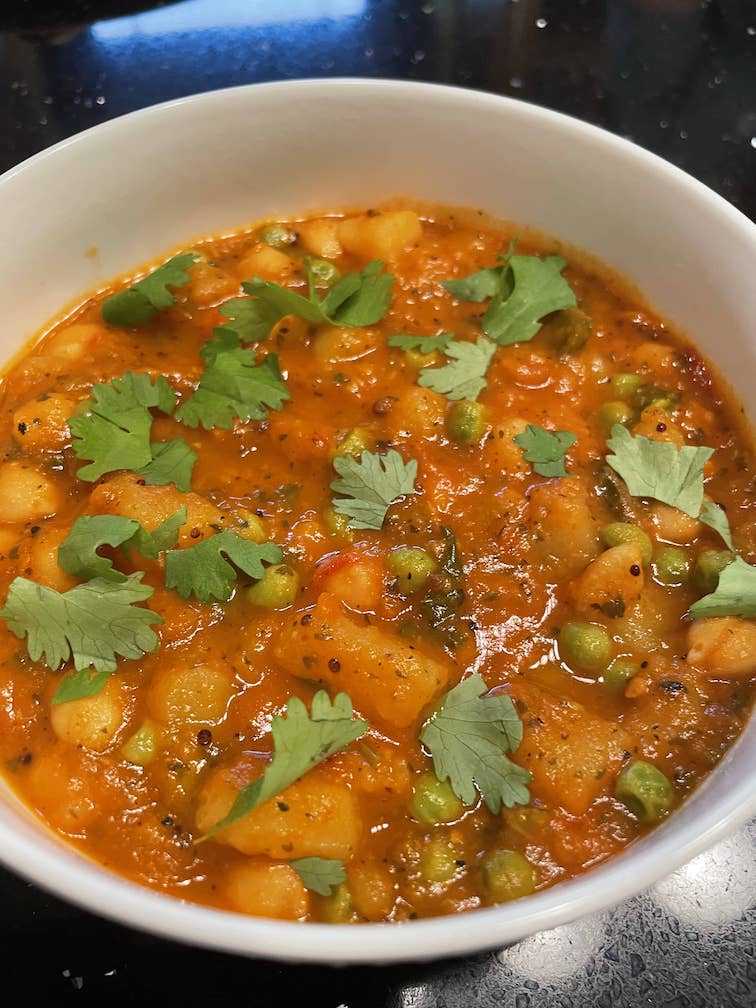 Many store-bought curry powders are made with very old spices and have almost no flavor. It's very easy to make your own homemade curry powder using whole spices. There are tons of simple recipes on the internet that you can find, but if you must buy a curry powder, use it while it's still fresh or buy a small amount in the bulk section of your local co-op or natural health foods store.
If you are not a big fan of richly spiced food, you can omit the curry powder from this recipe and replace it with turmeric only or experiment with your own spices to make it more or less spicy.
Potato and Chickpea Curry
Category: Soup, Vegetarian, Curry
Description
This simple, vegetarian curry dish is made with a warming blend of spices and ingredients you likely have on hand. It's great for cold winter days and keeps well in the fridge for leftovers.
Ingredients
1.5 lbs Yukon Gold potatoes, peeled and cut into small cubes
3 tbsp healthy oil of your choice (olive, grapeseed, etc.) or organic ghee
1 large red onion, diced
3 cloves of garlic, finely grated
1 tbsp curry powder
2 tsp fresh ginger, finely grated
¼ tsp cayenne pepper (optional)
1 tsp ground coriander
½ tsp. ground black pepper
1 tsp pink Himalayan salt
1 can (28 oz) organic crashed tomatoes or 6 oz. tomato paste mixed with 3 cups of water or vegetable broth
1 cup vegetable broth or water
2 - 15 oz can chickpeas/garbanzo beans, rinsed
2 cups frozen green peas
1 cup fresh parsley, finely chopped
To Serve
Garnish with cilantro (optional).
Serve with whole-wheat naan or any other type of crusty bread.
Instructions
Put cubed potatoes into a large pot, cover with water and bring to boil. Reduce heat and cook for 8-10 min or until tender. Drain the water and set potatoes aside.
In a large Dutch oven heat oil over medium-high heat. Add onion and cook stirring often, until soft and translucent, about 3-5 min.
Add garlic, ginger, curry powder, cayenne pepper, coriander, pepper, and salt. Cook, stirring constantly, for 1 min.
Stir in tomatoes and their juices. Cook for 3-4 min.
Add 1 cup of broth or water.
Use a smart stick/hand blender or food processor to puree the tomato mixture until smooth.
Add cooked potatoes and chickpeas, stir, and bring to a boil.
Reduce the heat, cover, and cook on low for 10-15 min, stirring periodically.
Add green peas and fresh parsley, stir and cook for another 2-3 min, until hot.
Taste and add salt if needed.
Let it sit for at least 20-30 min before serving. It's always better next day once the flavors have had a chance to meld together
Garnish with fresh cilantro and serve with whole-wheat naan or any other healthy crusty bread.
Nutrition
Keywords:
Curry
,
Soup
,
Vegetarian
,
Winter
,
Warming
,
Comfort
,
Curry dish
,
Easy
,
Make ahead lunch
...
Luba Serebrenik is an Integrative Nutrition Health Coach and an Integrative Energy Therapy (IET) practitioner. Her website can be found here.