Smoked Salmon & Fresh Herbs Deviled Eggs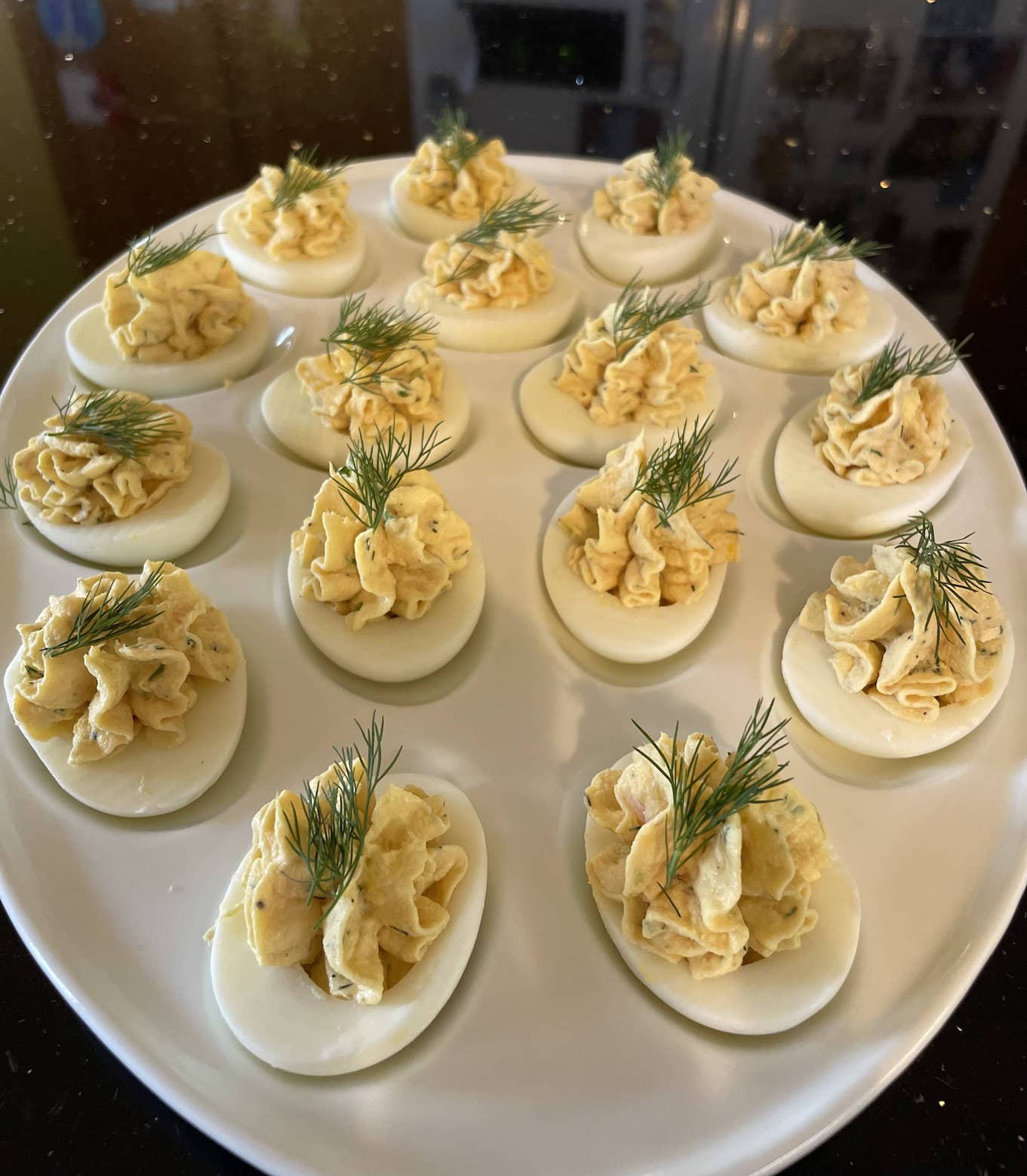 Need something to do with all those leftover colorful eggs from Easter?
This new spin on a classic app makes a fantastic snack, appetizer, brunch platter, or party dish to bring to your next potluck.
The smoked salmon adds a salty, smoky flavor to each bite that brings classic deviled eggs to a whole new level.
Eat healthy and have fun cooking!
...
Smoked Salmon & Fresh Herbs Deviled Eggs
Description
Smoked salmon deviled eggs is a classic appetizer taken to a whole new level. The smoked salmon adds salty, smoky flavor to each egg and the fresh dill, lemon, and chives turn it into one refreshing and delicious bite. This is a great appetizer for brunch or happy hour gatherings! Your guests will LOVE it.
Ingredients
8 extra large eggs
1/4 cup sour cream
2 Tbsp good mayo (I use Earth Balance original)
1 Tbsp fresh squeezed lemon juice
1/4 tsp lemon zest
2 Tbsp fresh chives or green onions
1 Tbsp fresh dill, finely chopped
4 oz good smoked salmon, finely chopped
1/4 tsp kosher salt
1/4 tsp freshly ground pepper
To Serve
Instructions
Place the eggs in a pot large enough to hold them in a single layer. Cover the eggs with cold water and bring to a full boil over high heat. As soon as the water boils, take the pot of the heat, cover, and let the eggs stand for 15 minutes.
Pour the water out and shake the pot to crack the eggshells. Fill the pot with a cold water and set aside until the eggs are cool.
Peel the eggs then slice them in half lengthwise. Remove the yokes carefully. Place the yolks in a medium bowl and arrange the whites on a platter in a single layer with the cut sides up.
To the egg yolks, add the sour cream, mayo, lemon juice, lemon zest, chives, dill, salmon, and pepper. Use a fork to mash and combine all the ingredients. You can also use an electric mixer to make the egg yolk mixture fluffier. Taste and add salt as needed.
With a small spoon, fill the egg whites with the egg yolk mixture, or use a piping bag with a large tip to make them look fancy.
Cover loosely with plastic wrap and refrigerate for 30 minutes to let the flavors blend.
When ready to serve, garnish with fresh dill.
Nutrition
Serving Size:
2 deviled eggs
Keywords:
deviled eggs
,
appetizer
,
snacks
,
smoked salmon
,
eggs
...
Luba Serebrenik is an Integrative Nutrition Health Coach and an Integrative Energy Therapy (IET) practitioner. Her website can be found here.