Zesty Cucumber and Chickpea Salad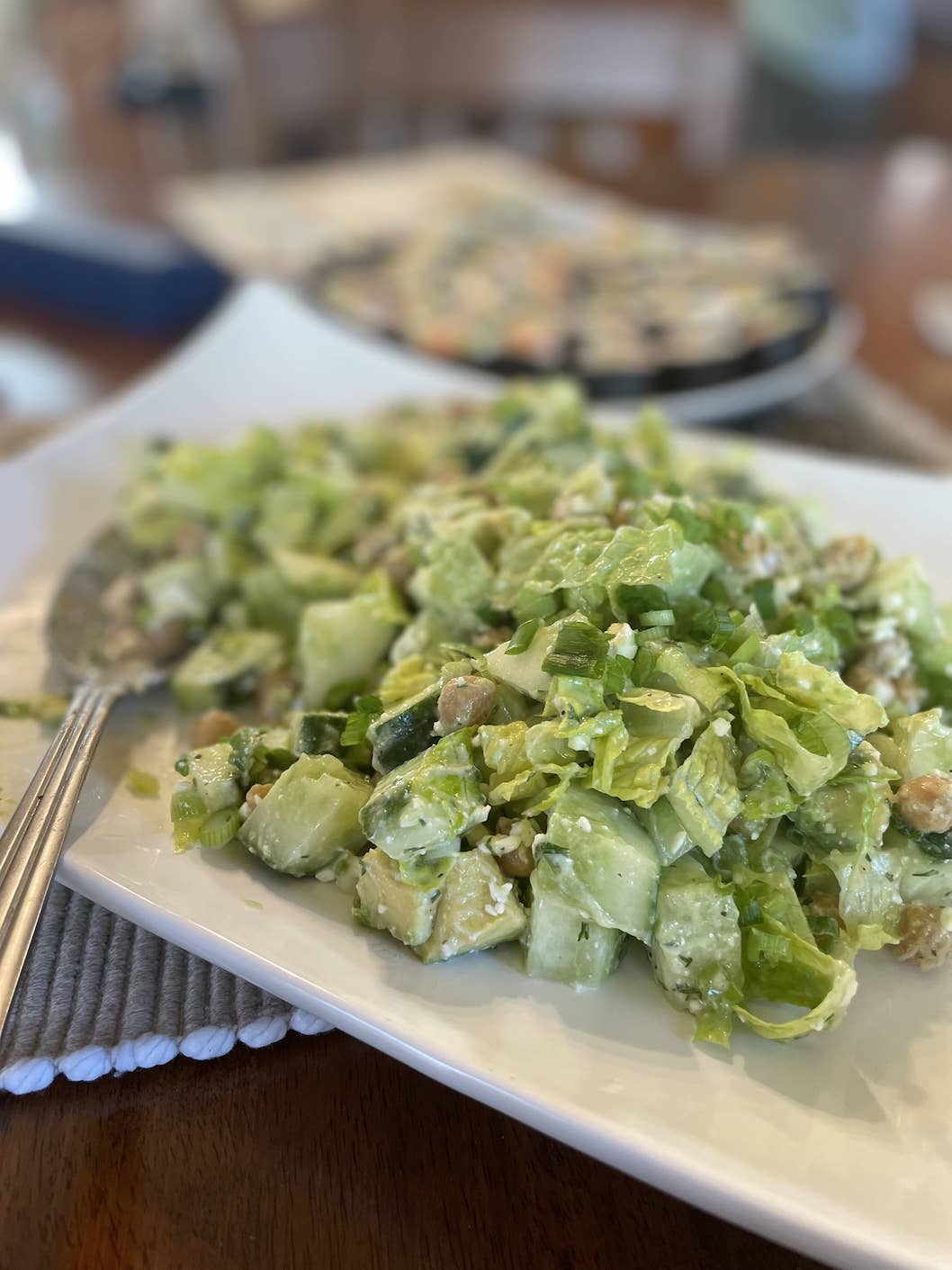 This simple and powerful salad delivers all the necessary nutrients your body needs.
Did you know that in just one cup of cucumber slices, you will get 14% to 19% of the vitamin K you need for an entire day?
You'll get vitamins B and C along with minerals like copper, phosphorous, potassium, and magnesium. It has a unique set of antioxidants and provides a cooling and hydrating effect for the body.
It's healthy, delicious, and hearty enough to serve as a main dish but also perfect as a side dish.
Zesty Cucumber & Chickpea Salad
Description
This zesty salad makes a great side dish or dinner salad and is loaded with vitamins B, C, and K, as well as antioxidants and minerals like potassium, copper, phosphorous, and magnesium.
Ingredients
5 tbsp olive oil, divided
1 (15 oz) can organic chickpeas, drained
1 organic English cucumber, cubed
1 ripe large avocado or 2 small avocados, cubed
3-4 green onions, chopped
2-3 cups of Romaine leaves, chopped
4 oz crumbled feta cheese (optional)
Zest of one lemon
1 tbsp. fresh lemon juice
1 clove garlic
1/4 cup whole-milk Greek yogurt or plain whole kefir
2 tbsp fresh dill, finely chopped
1 tsp pink Himalayan salt
1/4 tsp black pepper
To Serve
Instructions
To make the dressing, stir together the lemon zest, lemon juice, garlic, Greek yogurt, 3 tbsp olive oil, dill, salt, and pepper until well combined. Let it sit in fridge for 15-20 minutes to develop more flavor.
Heat 2 tbsp. olive oil in a medium skillet over medium-high heat. Gently pat chickpeas dry with a paper towel, then add them to the skillet. Cook, stirring often, until chickpeas begin to brown and crisp, about 5-7 minutes. Transfer chickpeas to a large bowl and let them cool for about 10 minutes.
Add the cucumber, Romaine, avocado, green onion, and feta cheese to a bowl. Drizzle with zesty dressing and toss to combine.
Serve immediately.
If you want to make in advance or have leftovers the next day, keep dressing and avocado separate until ready to serve.
Nutrition
Keywords:
Salad
,
Side dish
,
Dinner salad
,
Chickpeas
,
Healthy recipe
,
Healthy dinner
,
Easy recipe
,
Easy dinner
...
Luba Serebrenik is an Integrative Nutrition Health Coach and an Integrative Energy Therapy (IET) practitioner. Her website can be found here.