Turkey and Lentil Burgers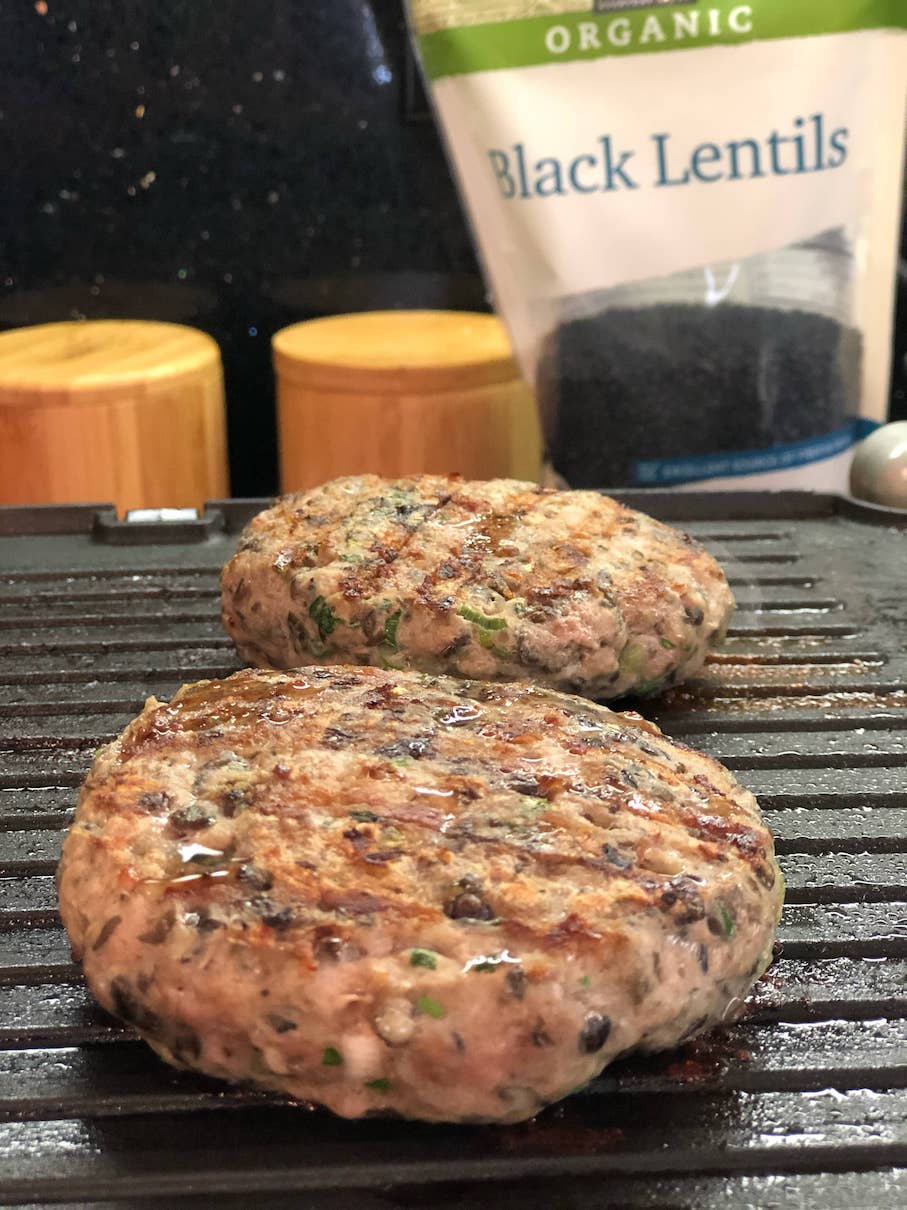 Who would think of burgers as a source of fiber?
These are! Only ¼ cup of the black lentil contains 54% of your daily fiber intake. Black lentils also deliver potassium, iron, magnesium, zinc, and folate.
Furthermore, studies show that black lentils may help lower the "bad" LDL cholesterol.
The hidden pureed black lentil in these burgers makes them not only nutritious but very flavorful and moist inside.
...
Turkey and Lentil Burgers
Description
These lean, healthy, and delicious burgers are a high source of fiber and protein and are also loaded with magnesium, zinc, potassium, iron, and folate.
Ingredients
1 lbs ground turkey
1 cup organic black lentil, cooked and pureed (1/4 cup uncooked)
3 green onions, finely chopped
1/4 cup fresh cilantro, finely chopped
1-2 cloves garlic, grated or 1/2 tsp garlic powder
1/2 tsp ground coriander
1/4 tsp ground black pepper
1/2 tsp salt
To Serve
Serve on your favorite type of buns with your favorite burger toppings, or add to any side dish or salad.
Instructions
In a large bowl, mix together all ingredients.
Form 5-6 patties.
Lightly oil grill or grill pan. Cook patties for 4-5 minutes on each side or until completely cooked through.
Serve on your favorite type of buns or by itself with any side dish or salad.
Nutrition
Keywords:
Burgers
,
Turkey burger
,
Lentils
,
Lean burgers
,
High Fiber
,
High Protein
,
Grill
...
Luba Serebrenik is an Integrative Nutrition Health Coach and an Integrative Energy Therapy (IET) practitioner. Her website can be found here.